Health and wellbeing: Addressing new challenges facing the asset management sector
By Robbie Weston, Howden Employee Benefits & Wellbeing
Published: 30 November 2021
COVID-19 has changed the world of work forever. Millions of us were forced to switch to working from home overnight, quickly adapting to combining our work and home lives. Now, as people return to the physical workplace, employers in the asset management sector find themselves having to create a 'new normal' as they navigate the post-pandemic landscape.
What is clear is that the pandemic has put our health and wellbeing firmly under the spotlight and as a result, it's is fast rising up the corporate agenda. Howden has recently undertaken two research reports (Employee Benefits & Wellbeing in the Asset Management Sector[1] and The Workplace Physical Wellbeing Dilemma[2]) to understand the impact of the pandemic on the asset management sector specifically and physical workplace wellbeing in general.
The findings highlight that the pandemic has impacted employees' health in a number of ways, as people have had to cope with the sudden and unexpected challenges that the crisis has presented. Existing mental health issues have been exacerbated during the pandemic and some employees have reported new mental health problems as a result of lockdowns, prolonged social isolation and digital fatigue.
In addition, sleep deprivation, poor nutrition, alcohol and drug misuse, a lack of motivation to exercise and musculoskeletal disorders are other key health risks impacting employees' health and wellbeing. These effects are likely to be felt for some time to come, as we grapple with the aftermath of the pandemic and establish a 'new normal'.
Couple this with the fact that the NHS, which was already under strain pre-COVID, now faces unprecedented demands for services. The total NHS waiting list is currently sitting at a record high 5.72 million people and continues to grow[3]. It's clear therefore that supporting employee health and wellbeing is likely to be a high priority for asset managers in the months and years ahead.
A sector that invests in its people
Our research revealed that the asset management sector is already ahead of many industries and provides a rich level of employee benefits to those working within it. The results reveal that highly valued benefits such as private medical insurance (PMI), death in service and group income protection are regularly being included within reward packages as standard.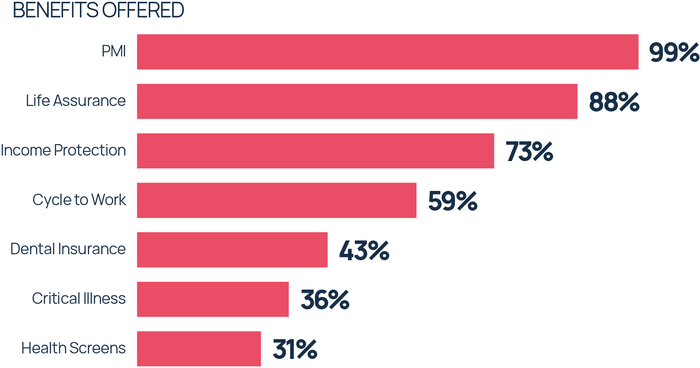 As employers start to understand the new working landscape, it is important to consider whether the benefits offered continue to be fit for purpose to meet businesses' and employees' evolving needs. And importantly that employees are aware of the full range of wider services available to them through the benefits offered.
For example, PMI, is often regarded as a benefit which traditionally provides a more reactive solution. However, many policies include value-added features designed to prevent and identify health problems early, such as virtual GPs, mental health support and online tools and resources. Good communication is essential so that employees understand and appreciate the full range of services available to them and how to access them when needed.
Asset managers may also want to consider how they can personalise the benefits they offer their people. We are increasingly speaking to firms who are introducing greater choice over benefits, often through flexible benefits platforms, so that employees can select the type of benefits that best suit their individual lifestyle and wellbeing needs.
The findings reveal that despite a high investment into employee benefits by the sector, there is 'a disconnect' in how these benefits support employees' wellbeing. Only 12% of small-business respondents state that they have a formal wellbeing strategy in place. Larger organisations within this sector are leading the way with 22%, but this is still much lower than research by HR group CIPD in 2020, which revealed that 44% of organisations have a standalone wellbeing strategy.
It is important for asset management firms to start to consider how they can develop their own wellbeing strategies, which address any unique challenges or concerns, as well as identifying and plugging any gaps spotted in existing packages.
The risk of burnout
Some would argue that, anecdotally, employees in the asset management sector have fewer financial and health and wellbeing concerns due to having greater material wealth and access to a wide range of benefits and insurance.
However, according to the TUC, City of London workers suffer from the worst mental health in the UK, with 94% of financial services personnel working beyond their contracted hours on a weekly basis to cope with workloads, and half not leaving the office or take a break at lunch.
The culture that encourages 'soldiering on' even when employees are experiencing poor health and wellbeing has created a catalyst for burnout and this has only been exacerbated by the pandemic.
Asset Managers and their employees face a unique set of wellbeing challenges and therefore require a unique approach that meets the individual needs of each firm and the people working within it.
Building an effective wellbeing strategy
It's important to consider that workplace wellbeing relates to all aspects of the organisation, from the quality of the physical environment, to how employees feel about their jobs and the organisational culture. All these things can affect a person's sense of physical, mental, social and financial health.
A good strategy will link the cultural and environmental aspects with insurance and wellbeing-based products, services and technologies to support employees, helping them understand what's available to them, and when it would be most useful. Wellbeing can mean different things to different people, so the strategy needs to gain meaningful feedback from employees to ensure policies and practices are tailored to meet the unique requirements of a particular organisation and the specific needs of its workforce.
Getting the message across
One of the biggest problems lies in communications. To ensure that benefit spend is going where it is needed, it's essential to get regular feedback from employees. Right now, more than half of Asset Management firms do not conduct these checks – and potentially spend money where it is not needed or appreciated.
Communications also have a role in letting employees know how they can gain access to services. Our research shows that Employee Assistance Programmes are rarely used by the workforce – the number stands at a shockingly low 3-5%. One of the issues is that they are often reactive schemes, kicking in when a problem has already manifested itself. Well signposted EAPs that encourage people to access them as part of everyday practice can create a culture that can help prevent physical or mental ill health from occurring in the first place.
Interestingly our research indicates that the majority of money that needs spending to create a robust wellbeing strategy is already being spent as the insured policies form the largest part of the costs, however the overarching wellbeing strategy and communications are lacking which will help employees make the most of their benefits.
What steps can asset managers take?
Look at existing data (employee absence data, insurance and claims data, staff surveys etc) to understand what is happening within the organisation and identify any particular wellbeing challenges that need to be addressed
Carefully consider what is right for the business, its people and budget. This may require thinking beyond usual solutions to focus on desired outcomes
Research the market to deliver what is needed. It's important to consider any legislative and/or regulatory complexities
Align employee benefits with company culture and consider how these can be maximised to support talent recruitment and retention efforts
Communicate with employees to help bring benefits to life through regular, targeted multi-channel communications
Provide market-leading technology to help manage data and benefits, which in turn can continue to provide the insights needed to keep the strategy relevant and appropriate.
At a time when the culture of the asset management working world is changing, firms may want to seek guidance from a specialist advisor that understands your sector, can research and negotiate benefits on your behalf, to create a benefits and wellbeing strategy that addresses your specific concerns and supports your firm's wellbeing.